Independent Living for Women over the age of 55
Almshouses have existed in this country for over 1,000 years. Their aim is to provide affordable housing enabling individuals to retain their independence and live in their local community. Each Almshouse charity is independent and run by a team of voluntary trustees.
The Rowland Hill Almshouses in Ashford, Middlesex were established in 1812 and are beautiful historic buildings with 24 self contained flats. Each flat is individually designed providing independent living.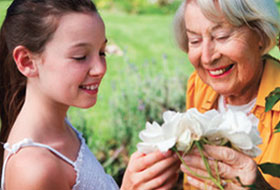 The Almshouses provide a peaceful atmosphere in a delightful setting. The extensive attractive gardens are well maintained, with ample places to sit and relax or meet up with friends. Public transport and local amenities are easily accessible.
Each flat has a lounge overlooking the gardens,one bedroom, a bathroom, a kitchen and secure lobby access. The Almshouse Manager is on site everyday (Monday – Friday).